Performance and AGG (Aesthetic Group Gymnastics) Programs
Performance Programs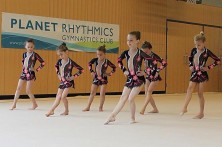 Age: 5-12 years old
Location: Planet Studio @ North Vancouver and Abbotsford Gym
Girls will develop rhythmic gymnastics skills using a variety of apparatus: ropes, hoops, balls, clubs and ribbons. Participants work together as a unified team performing a group routine (AGG) choreographed to music.  Gymnasts have the opportunity to Perform at the Shows, Festivals and Provincial competitions as a group. They will also have a chance to compete among other groups at the Planet Rhythmics Invitational competition in March and individually at Blossom City Cup Competition in April
AGG (Aesthetic Group Gymnastics) Program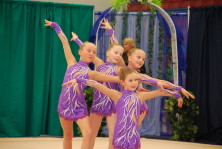 Age: 6-16+ years old
Location: Planet Studio; West Vancouver Community Centre and Abbotsford Gym
This is the first step into competitive world. Girls learn basic technique of Aesthetic Group Gymnastics. Gymnasts perform at the Winter Show and Year End Show and have the opportunity to compete among other AGG  groups at the Planet Invitational in March and other invitational competitions during the year.                                              Possible participation at BC AGG Championships and Canadian National AGG Championships.
Lots of stretching, acrobatic, coordination and conditioning included in this program.
Stretching Class for Aspiring Young Athletes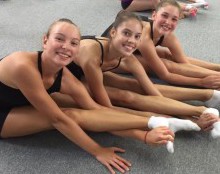 Age: 8-18 years old
Location: Planet Studio @ North Vancouver
This class will help to find a maximum potential in flexibility for serious athletes. This is the only stretching class available in BC today. Perfect addition for dancers, figure skaters, artistic gymnasts, synchronised swimmers and more.