Competitive Programs
Competitive Provincial Stream Program, BC Levels: InterClub-1-2-3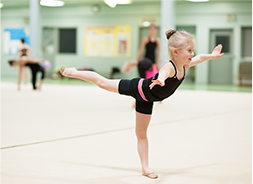 Age: Age 8 and up
Location: St. Francis Xavier (Vancouver); Planet Studio (North Vancouver); West Vancouver Community Centre and Abbotsford
Events: 3-5 events per year
Assessment required. Training is minimum 4 hr (for InterClub) and  6 hr  for BC Level 1-3 weekly, including intro ballet training during the week. Compete with group/individual routines at BC Provincial Championships and Invitational competitions across BC
Competitive Western Stream Program, Levels 3B/3C, 4-5-6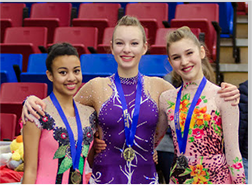 Age: Age 10 and up
Location: St. Francis School (Vancouver); West Vancouver Community Centre and Abbotsford
Events: 5-7 competitions/performances per year
Audition required. Training 9-12 hours/week, including ballet training during the week. Required experience in provincial stream program. Compete with individual routines at Westerns Regional Championships, BC Provincial Championships, and invitational competitions across BC, Canada, international invitational events.
Competitive National Stream Program (Novice-Junior-Senior)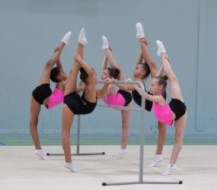 Age: Age 10 and up
Location: St. Francis Xavier (Vancouver); West Vancouver Community Centre
Events: 10-14 competitions/performances per year
Audition required. Training is 12-24 hours weekly. Ballet practice 1-2  times a week. Compete with individual routines at all BC and high-level Canadian events: Western  Regional Championships, Canadian Nationals and international invitational competitions.
Travel across Canada, North America and around the World.